Cim Finance issues Mauritius' first Green Bond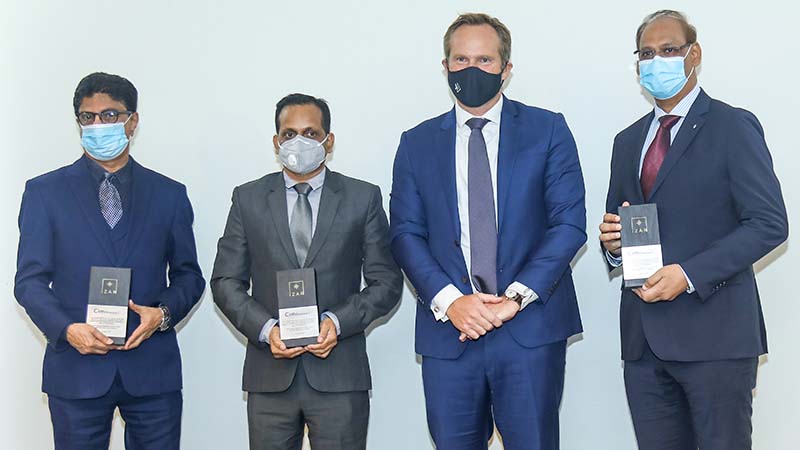 25 January 2022
Easing the financing of projects that contribute to a carbon neutral economy: this is the ethos behind the green bonds launched by CIM Financial Services Ltd (Cim Finance). The non-banking financial institution becomes the first Mauritian company to issue green bonds. The Financial Services Commission (FSC) marked the occasion by hosting an awareness session on the FSC Guidelines on the Issuance of Green Bonds at its headquarters on Tuesday, 25 January, in the presence of the Minister of Financial Services, the Governor of the Bank of Mauritius and the partners of Cim Finance who made this project possible. 

Cim Finance plans to raise funds worth Rs 3 billion over the next five years. The first tranche amounts to Rs 500 million. The funds raised will be used to finance the company's successfully launched Green Lease product, which aims to encourage the shift to hybrid and electric vehicles, as well as to support any other green projects undertaken by Cim Finance's clients. The Green Bonds were also created to meet the increasing demand for socially responsible investment opportunities. They have received an "AA" rating from Care Ratings (Africa) Private Limited and will not be listed on the Mauritius Stock Exchange.

"Being the first company in Mauritius to develop a Green Bond Framework and issue green bonds is a concrete way to demonstrate our commitment to sustainable development in Mauritius. And we are very proud of it. We want to help our clients choose products that will improve their quality of life while reducing their impact on our natural resources and environment," says Mark van Beuningen, Group CEO. "With our portfolio of more than 278,000 customers, we have the ability to play a leading role in guiding our customers towards more sustainable decisions and protecting our country from the negative effects of climate change,
" he adds.  

Any company wishing to issue green bonds must, in the first place, establish a Green Bond Framework. This framework defines, among other things, the way the proceeds of the issue are used and managed. Cim Finance's Green Bond Framework was developed in accordance with the Green Bond Principles of the International Capital Markets Association ("ICMA"), the leading authority in the field, and the FSC guidelines on green bond issuance. Leading financial institutions with ESG expertise, including Izar Ltd, HSBC and Dynamia, supported Cim Finance in establishing its green funding programme.  
Committed Consultants

The Director of IZAR Ltd, Dean D'Sa, assisted Cim Finance on both the development of this Framework and the execution of the debt raising transaction. He explains that the challenge was to consider the specificities of Cim Finance's activity and its green strategy. "With a solid framework in place, we approached investors", he explains. "We are thrilled to have carried out this project. Our mission is to bring high quality transactions to investors, and that is what we have done with this transaction. Green bonds will change the way we finance projects." he adds.

HSBC set out in October 2020 its ambition to reduce emissions in its operations and supply chain to net zero by 2030. In this connection, the Group wanted to be one of the first to invest in green bonds in Mauritius. It achieved this goal by making its international experience available to Cim Finance for this project. "Cim Financial Services Ltd is one of our key customers, and we are delighted to support them. As a responsible international bank, we strive to help our clients decarbonise and we wish to facilitate the transition to a carbon-neutral economy by 2050, in line with the objectives of the Paris Agreement," states Dean Lam, Managing Director and Head of Wholesale Banking.

The firm Dynamia added its specialist perspective in sustainable solutions. "Our role was to ensure the alignment of this first Mauritian Green Bond with international best practices. We defined the projects that may be financed, set up KPIs and clarified the calculation methodology for measuring environmental performance, mainly in terms of carbon emissions. This will allow clear and transparent reporting", explains Thierry Lebreton, who is proud to have been involved in this exercise. Dynamia is a certified B Corp, a label granted to companies recognised for having beneficial effects on the world while being profitable.

Five categories of projects

The Green Bond Framework identifies five categories of projects that can deliver positive and sustainable results for the country and are likely to be financed by the proceeds of these green bonds. These categories are: renewable energy (including the purchase, installation and maintenance of technologies such as solar panels); energy efficiency (projects that reduce energy consumption or mitigate greenhouse gas emissions in building construction); clean forms of transport (the purchase of electric and hybrid cars whose level of CO2 emissions is less than 79g and public transport projects); sustainable water and wastewater management (projects that improve water quality, efficiency and conservation); and green building (construction or renovation of certified sustainable buildings).
"At Cim Finance, we believe that working to promote sustainability is a responsible business practice. We are confident that green financing will soon become the norm for all companies wishing to make a difference. We are very proud to be the first to embark on this path," adds Mark van Beuningen. CFSL wants to be fully transparent on the investments' environmental impact and will, therefore, be publishing an annual report on the green projects that have received funding.